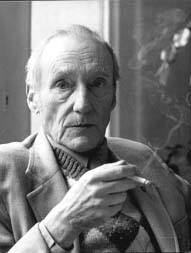 Birds
Bullets
Buildings
J. K. Ihalainen
Cryptic Silences
Denmark 1988
Art by William Burroughs
Curse of the Red Seal
&
Spermatozoa Color
from the Shotgun series (on plywood using spray-
paint and ammunition by William Burroughs 1988)
Photo by Tom Benson
Cak´kecak cak`ke
Cak´kecak
cak´kecak
cak´kecak cak
cak´kecak cak cak`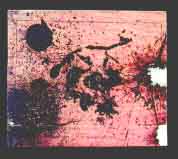 ANIMAL TERRITORY
What Snaketongue
needs to tell -
Man and woman
copulating
slow and easy
at the ant hill
Red salamanders
vomiting
strange blue
creeping alphabets
Eagles surfing
backwards
on radiant waves
Razorblades zig-
zagging
at the sunset
into the nothing
D-R-U-M-M-I-N-G
Quicksilverwoman
play joujouka
bells ring
all night
inside them
Whidah-birds
drum
talking-trees
in deep woods
Medusamen swim
in fertile waters
fishlike
through the images
of distant clouds
TANGLEFOOT CHILD
Newborn talks
like the ancients
flayfluttering
maymuttering
four-footed
earthpresent
happy hunchback
language
slang of bulbuls
crawlingwords
jumpingwords
rollingwords
& words
for warm sweating
grass
sticking
under
the bare
buttocks
EYE
What could I say?
Piano is out of tune
I can recall the parrots
with their necklaces
of shining dust
I can recall
the changing
of hearts
every heartbeat
a perfect signature
of its own
What could I say?
These chrystalnights
are over, the
black pearl
is sleeping
EDUCATIONAL LASER TV CHANNEL
9 a.m. Black Cross dialects. By Sergey "Africa" Bugayev.
10 a.m. Everything you know is wrong. Dr Thomas Burns lecttures on information & addiction.
11 a.m. Berio: In ruhig fliessender Bewegung.
12 a.m. William Burroughs imitating Buster Keaton and vice versa. Studio Pandemonium.
1 p.m. Studies of ancient piracy tactics. By Charles H. Hapgood.
2 p.m. Say nothing and mean it. Poetic hour with Lydia Lunch.
3 p.m. Black & White Video Cut-Ups of Magazzini Criminali, John Sandborn, Z. Rybczynkski.
5 p.m. Drive-in erotics. New ways of adaptation in the Russian military. The testimony of a Taxi driver from Vladivostok.
6 p.m. Chaba Zahounia calling long-distance from Oran, collect.
7 p.m. Legendary Alamount Tapes. From the State of The World. Phauss.
8 p.m. A modern interpretation of slaveology. Danish Video Art.
9 p.m. Chemistry of the Night. Uneducational facts about aphrodisiacs by Colin Wilson.
10 p.m. Anna Livia Plurabellissimo. Joan Barbara sings Finnegans Wake, with Carla Bley Band.
11 p.m. My reality's better than your reality; my reality's Popular reality. David Bowie meets Annie Lennox in Sodankylä.
12 p.m. At the waters of Babalong. Wailing Sound Systems at Wakaduku Palace, june 1988.
NEGATION OF ARMIES
= MORE ARMIES
Marching from nowhere
the invisible army
death toll zero
morphineblue
mexican smiles
paid in $$$
"We are razor lovers
at the dead end
of your trembling
telescopic sight"
I smell blood
too many fatherkiller
loose
Those living ghosts
make me nervous
It is not the bullets
but the holes
ANYONE BORN IN 80´s IS A MUTANT
We are plants
poisons
for daily life
we are bullets
as fast as slow
we are banshees
among blue
sparkling fogs
We are earth
we inhabit the
underterrestial
uraniumplanetary
libraries
building up
the installations
of complete
scorpionlandscapes
for uneasy
masters
of insomnia
VISION WITHOUT DREAMS
In Hopi nyima
means "moon"
while in Tibet
it means "sun"
In Tibet dawa
means "moon"
while in Hopi
it means "sun"
Rivers flow
backwards
& return
to swallow
themselves
Do not kill
yourself
for that